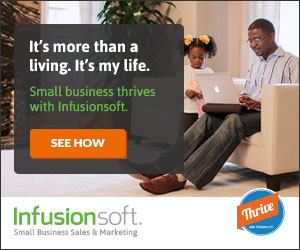 Many Customer Relationship Management (CRM) systems do make an effort to be more than hosted spreadsheets and simple data-entry applications.
They make claims that their systems can save time and improve businesses as opposed to simply being a repository for customer data.
Business intelligence now plays a key role in marketing but many small business CRM softwares still have trouble delivering what they promise.
However, one platform definitely stands out from the crowd and delivers what it claims. Infusion CRM software can significantly grow as well as improve your business.
Sign Up For Your Free Webinar and Discover How To Convert More Leads Into High-Paying Customers!
Let's see how this will increase your revenue and customer base:
Marketing Automation Small Business Dashboard
This is an all-in-one sales and marketing system comprising of 3 main functional areas:
1. E-commerce
2. Marketing
3. Customer Management
The software aims to help your businesses capture and attract leads, close deals, and save time.
However, InfusionSoft's true power lies in its marketing automation capabilities. The highly customizable and incredibly in depth automation processes help you manage the whole customer lifecycle automatically.
The following is a breakdown of the system section by section:
Contact Management
Infusion CRM software goes further and beyond other programs by capturing all that pertains to your leads in one place including:
– Web activity (pages people visit on your website and how for how long they stick around)
– Purchase activity (subscriptions, past purchases, etc.)
– Sales activity (product interest, sales stage, etc.)
– Lead source (Where do your leads come from?)
– Marketing activity (clicked links, opened emails, form submissions, etc.)
All this information will help you automate your sales process. For instance, when a lead visits your website and downloads a free report, you can then track this and include them in subsequent campaigns.
Web Analytics
InfusionSoft will let you manage companies, sales opportunities, partners, and contacts separately. When you are working with company records, you can then attach contacts to these companies, a feature that is very useful but many people often overlook.
An interesting little feature that InfusionSoft has is the automatic weather display on your lead's profile based on location. A quick glance at this ought to give you an amazing conversation starter.
InfusionSoft's sales pipeline is fully customizable and allows you to bring in leads from web forms, score them based on various parameters, manage distribution of leads, run sales reports, and uses a round robin feature for assigning leads.
Other noteworthy features include file management, permission management, and appointment and calendar tracking.
Marketing Automation
One of the outstanding features about InfusionSoft is definitely the marketing automation features. The system saves time and really shines through the combination of the e-commerce, CRM, and marketing automation as well as marketing aspects.
Using the visual campaign builder, you can create multi-step campaigns easily, put them on autopilot, and observe their effectiveness with great insight. Campaigns can include emails, web forms, landing pages, and much more.
Campaign Builder
Using the drag-and-drop builder, you can easily customize your emails and landing pages. Using reports, you can easily measure the exact effectiveness of your email marketing campaigns. Finally, the auto-responding features are very effective since they are based on the lead/client's actions.
Landing Page Builder
This unique small business crm software uses tags to categorize all entities/activities in the system and properly decide what to do next. If a lead submits certain information via a form, clicks on something on your website, or simply does something else based on 'triggers' you set, a series of follow through actions will follow and the lead will be communicated with. This may be a simple follow up email or it may be the next step in the sales funnel such as an upsell.
Opportunity Record
The options here are limitless and it is all customizable depending on your business. It is through these intricate multi-step behavior based campaigns that InfusionSoft saves you so much time. This feature alone is hard to come by.
E-Commerce
The e-commerce features are what truly validates InfusionSoft's claim of being all inclusive. These elements help you handle the full life cycle of your clients. You can control lead capture, management of the sales pipeline, client billing all from the same app.
The e-commerce module has improved over time and it now includes everything from automatic billing to finance tracking. You can also customize and manage your storefront and shopping cart, invoice clients, create custom order forms, apply upsells or discounts, manage inventory, and create payment plans. It also integrates with several third party merchant gateways.
Visitor Report
InfusionSoft features an affiliate management feature that helps you track all contacts, business affiliates, and referrals as well as commissions.
Benefits Of Using InfusionSoft:
– Creating campaigns easily using the drag-and-drop campaign builder
– Track everything about your clients using very effective tags
– Access public API
– Customize your client life cycle and place it on autopilot
– Hosting web forms, squeeze pages, shopping cart, and storefront all for free
– Creating web forms, landing pages, and emails quickly using the drag-and-drop builder.
Pricing and Training
InfusionSoft offers you a tiered pricing model that ranges from a standard package of 2 users for only $200 per month to the Enterprise edition of 20 users. You can add more users to any package at a cost of $59 each.
This powerful small business crm software provides in-depth mentoring and training for you and your staff. InfusionSoft clearly wants to ensure that every person who uses their product uses it to its fullest potential and improve their business.
Small Business Shopping Cart
InfusionSoft is ultimately a powerful all-encompassing solution for small businesses. With full integration of shopping carts, sales transactions, inventory management, auto responders, clients lists & profiles, marketing phase, marketing responses, order histories, lead management, along with other useful tools, InfusionSoft will help power your small business at a relatively reasonable cost.
It is quite clear that Infusion CRM software is the "go to" Customer Relationship Management  program you need to enhance your industry. It has a host of features which will improve your small business in terms of both money and time. Invest in InfusionSoft today and watch your business soar.